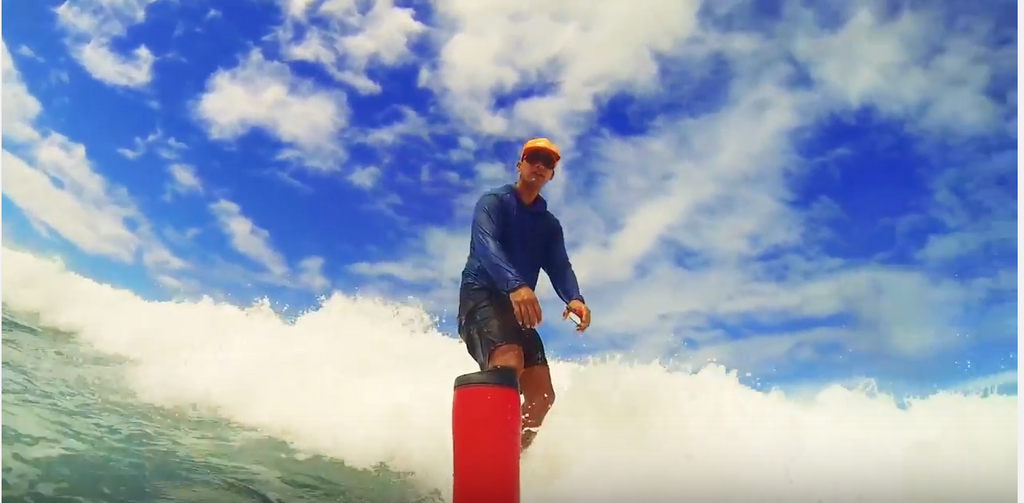 Over the Summer we've had a lot of people try out the Mighty Mug on camera. From throwing knives and drumsticks at the cup, to swinging at it with a bat, people have tried all sorts of things to get the Mighty Mug to fall over. The product is so special that it's been nicknamed the "Unspillable" mug.
While surely some level of force will get the mug to fall, it works amazingly well for avoiding spills in everyday situations. It's even effective under some extraordinary circumstances. Our friend Abner over at Hang Loose

Surf

Club in Hawaii decided to try out something particularly awesome -- he took Mighty Mug directly out on the water! 
In one of the best

surfing

spots on the planet, the Mighty Mug lived up to it's reputation by standing tall on Abner's

surf

board while he caught some waves in Maui. Abner's Mighty Mug stayed perfectly still while he paddled through the water against the current. He was even able to lift the mug straight up to sip while standing on the board. Check it out! 
If the Mighty Mug can stay balanced here, it can be counted on to remain upright in almost all your day-to-day scenarios. Whether you're working indoors with computers and gadgets, or moving around outside in the elements, Mighty Mug is the perfect drinkware for every lifestyle. Order your Mighty Mug today and let us know how Mighty Mug works for you!  #ShowUsYourMug 
If you have a trip to Hawaii planned connect Abner with his team and set up a an awesome surf lesson. 
HangLooseSurfClub.com
Continue reading